Liquid error (snippets/customproductbuilder-initializer line 22): Error in tag 'section' - 'product-template' is not a valid section type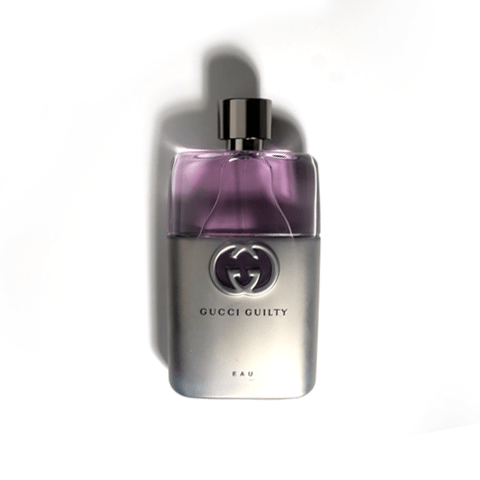 An intensified olfactory experience, Gucci Guilty Pour Homme Intense adds a twist to Gucci Guilty Pour Homme, making it more provocative, more sensual. The top notes seize hold of the senses with an intensified masculinity. The amplified burst of lemon and lavender combined with biting new coriander note adds a more icy start to the intense scent.
The herbal freshness of lavender in the middle notes melds with Orange Flower as the sensual play maker in the heart with a hint of Neroli reinforcing the crisp and masculine facets. The base notes of addictive patchouli and cedarwood's dry down have been enriched with dry amber and leather accents for a darker and more provocative trail. Intense Pour Homme is earthy, yet suggestively exotic and powerfully masculine.Gucci Guilty Pour Homme Intense replicates the sleek fusion of metal and glass of Gucci Guilty.
The original's muted gunmetal metallic casing has been transformed into a solid, bolder sculpture. The signature interlocking G's will prove as covetable an accessory as a new pair of Gucci sunglasses.
100% Authentic & 100% Satisfaction guaranteed!
Every fragrance comes with a 100% money back guaranteed. We take great pride in the quality of our products and guarantee it is the same product you would buy from department stores, but at a lower cost.
Our passion for fragrances and the support of our customers are the two big factors of our success. GK Fragrance is family owned and have been in business since 1990.