Liquid error (snippets/customproductbuilder-initializer line 22): Error in tag 'section' - 'product-template' is not a valid section type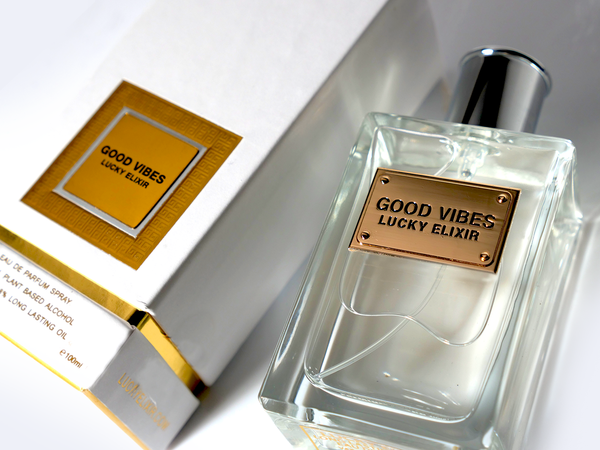 Long lasting. High quality. Effortless. Lucky Elixir breathes life into every fragrance released from our olfactory. The scents build excitement. It propels a search for beauty and a journey into the soul. Our fragrances are cultivated from a special plant-based alcohol unlike any other. It's more natural, gentler, and kinder to your skin. This unique ingredient is the resilient essence behind every bottle of Lucky Elixir. 
A glass filled with your beloved drink of choice. Iconic, sophisticated, fitting every occasion. It's a true symbolism of elegance and relaxation. That same experience is cultivated and bottled in Good Vibes, by Lucky Elixir. 
A musky aroma melting into notes of cloves, bergamot, and a hint of cinnamon tea to add a moment of relaxation. You won't forget the mild kick of peppery spice coupled with a note of violet, creating the right blend of excellence to compliment yours. 
100% Authentic & 100% Satisfaction guaranteed!
Every fragrance comes with a 100% money back guaranteed. We take great pride in the quality of our products and guarantee it is the same product you would buy from department stores, but at a lower cost.
Our passion for fragrances and the support of our customers are the two big factors of our success. GK Fragrance is family owned and have been in business since 1990.